Kidnap and Ransom Insurance
In recent years, aid workers seem to have lost their immunity from violence. Due to their direct contact with the local population, aid workers are at greater risk of being kidnapped than other people traveling abroad. The result is an increasing number of cases where aid workers are kidnapped followed by a ransom demand. In such a case it is a great help to receive professional support.
Together with market leader Hiscox, DR-WALTER has therefore developed a Kidnap and Ransom Insurance Policy for NGOs. Kidnap and Ransom Insurance covers costs such as those for professional crisis management and paid ransom.
RiskMap
Our partner Control Risks examines worldwide security and political risks annually and develops this RiskMap. There are five risk categories: extreme, high, medium, low or very low. The aim of the classification is to help companies and organizations assess risks for both their work on site and their employees. The evaluation is based on factors like kidnappings in the respective countries, political instabilities and interventions, social and structural influence factors, but also on other developments which could harm companies and organizations financially, physically or personally.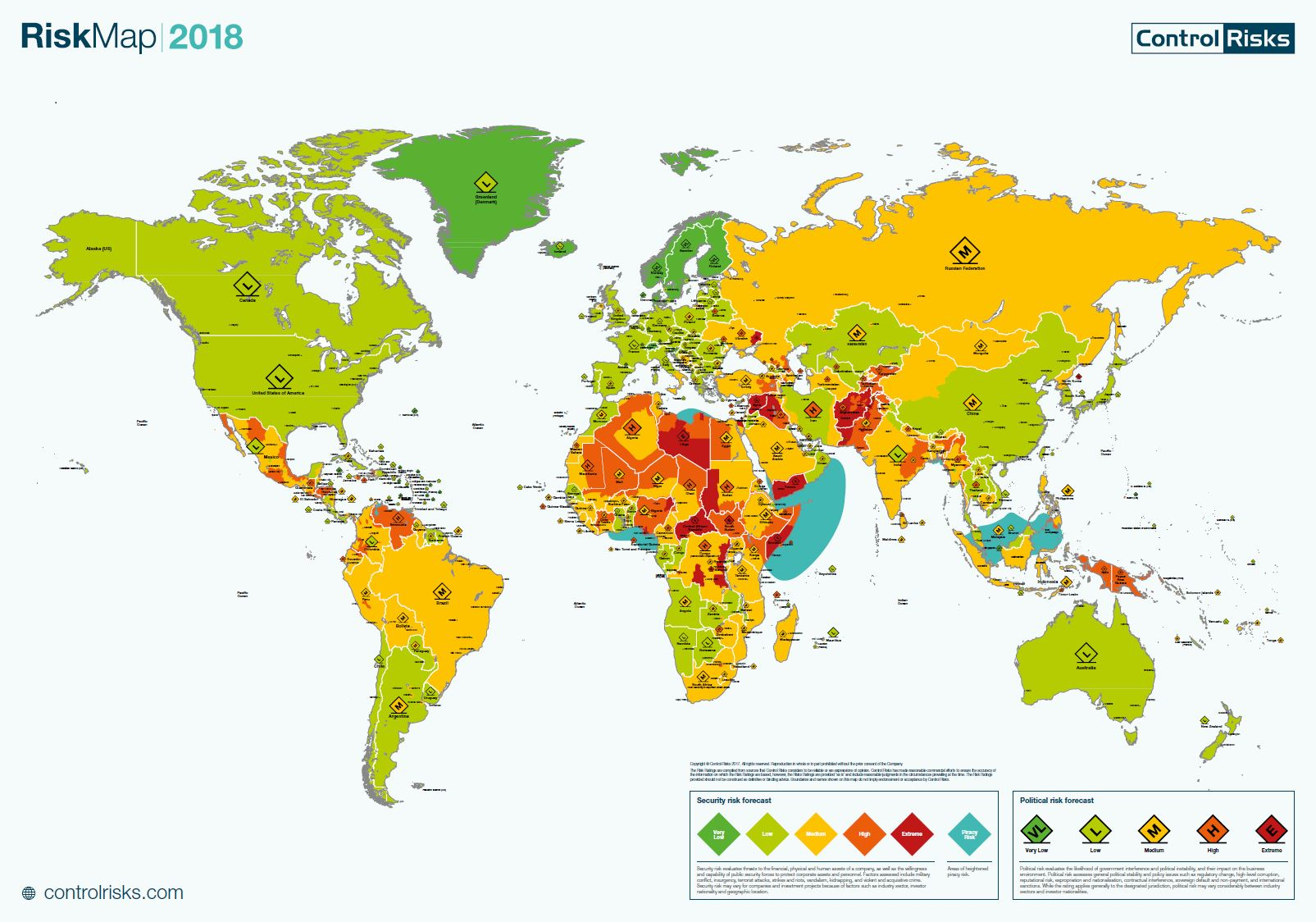 Reasons for Kidnap and Ransom Insurance (K&R Policy)
The K&R Policy provides insurance cover for kidnapping, blackmail and unlawful deprivation of liberty and reimburses all resulting costs under the respective insurance contract.
Kidnapping and blackmail are always highly emotional situations, not just for the victims. The cover includes access to the crisis consultancy Control Risks the staff of which will provide you with immediate professional support until the crisis situation is fully resolved. It only takes one call.
The crisis consultants do not act on behalf of the insurer but in your best interest and are available 24/7.
K&R insurance is an integral part of your duty of care for employees sent abroad on your behalf.
Benefits of Kidnap and Ransom Insurance
Reimbursement of paid ransom (also in case of loss of ransom during transport)
Full coverage of costs for crisis consultants up to an unlimited amount (the insurer will settle payment directly with Control Risks)
Reimbursement of additional costs, e.g. salaries of the victims or other involved persons, travel expenses, legal costs, interpreting costs, informants' costs, costs for psychological care after the release of the hostages, convalescence and rehabilitation costs, etc.
Reimbursement of the claims of the victim against the organization under statutory liability provisions
Disability benefit in case of bodily injury in connection with an insured event
What are the tasks of the crisis consultant in case of an insured event?
Establishing the necessary communication channels
Establishing a management organization to respond to the situation
Identification and cooperation with public authorities and the police (where possible)
Developing and coordinating strategic and tactical options
Analyzing how the situation develops
Selecting and (if necessary) training of a communicator or negotiator
Media relations/Participating in the media strategy
Supporting relatives
Objectives of the crisis consultant
Safe and earliest possible release of the victim
Professional handling of the entire situation in your best interest
Enabling and securing further business activities
Finding a solution in accordance with applicable laws
Further information
Do you have any questions? Mr. Metz will be happy to advise you.
Christian Metz
T: +49 2247 9194-754
F: +49 2247 9194-304
E-Mail: christan.metz@dr-walter.com

This particular offer is aimed especially at organizations from the area of development cooperation. However, we will be happy to provide all other companies and private individuals with personalized Kidnap and Ransom Insurance or Ransom Insurance as well.